Extension of the CBD and Brisbane's gateway to jobs, tourism and recreation
The significant improvement in transport connectivity and revitalisation of the Roma Street precinct made possible with Cross River Rail, will generate opportunities for urban renewal and enhancement of public spaces in the area.
It will also stimulate private sector development opportunities to create new commercial and residential hubs in one of the city's most under-utilised areas.
Urban renewal at Brisbane's new 'Grand Central'
The new underground Roma Street station will see Roma Street become Brisbane's 'Grand Central', connecting passengers with the existing suburban bus and rail networks, the proposed Brisbane Metro, as well as regional and interstate bus and train services.
Stimulating growth and change
Demolition of the Brisbane Transit Centre to make way for the new underground Roma Street station will provide opportunities for enhanced public spaces and new commercial as well as residential developments, stimulating a much-needed transformation of the area.
Brisbane Live Entertainment Arena
Brisbane Live will be the city's new home of entertainment right in the CBD. Brisbane Live, at Roma Street, a new world class arena is a great example of the new assets Brisbane could gain through the Cross River Rail precinct delivery strategy.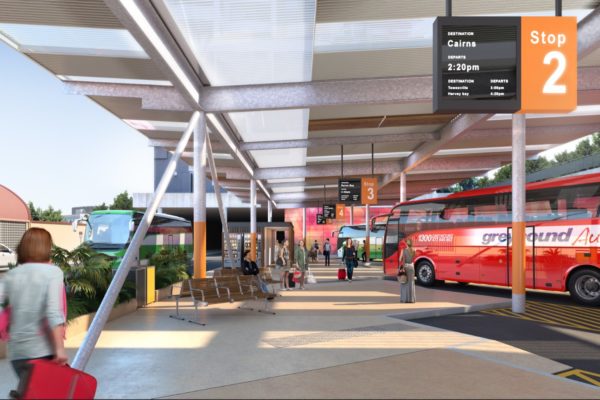 New Coach Terminal location
Roma Street Station and Precinct Concepts
This video includes concept developments and designs which are not final or approved.
Video transcript
The video starts with an aerial view of Brisbane with the rail alignment highlighted. The camera pans down to Roma Street opposite the Brisbane Transit Centre.
The screen wipes to show the proposed concept for the Roma Street station entrance, revealing a tree lined public space with seating and potential for food and beverage outlets.
A cutaway of Roma Street station is shown which reveals that the station platform is four levels below the street entrance. The new station building provides inter-connectivity for both the busway and existing railways, which will transition Roma Street into the major transport hub for Brisbane.
The video closes showing the potential for development opportunities around the station, including the multi-use arena, Brisbane Live.
Roma Street Station Precinct Map
Roma Street is a key link between the city centre, Roma Street Parklands, Spring Hill's schools, Caxton Street, the Petrie Barracks, Suncorp Stadium, and the cultural precinct at South Bank.
Roma Street Station Precinct Concept Images
Check where work has started, what's coming up and how it will impact you.