Cross River Rail answering your questions on building twin rail tunnels
Cross River Rail answering your questions on building twin rail tunnels
Do the tunnellers sleep underground? How hard is the rock under Brisbane? How do you tunnel under the River? How far below ground will the tunnel be? What machines will be used to tunnel?
These are the kind of questions students visiting Cross River Rail's Experience Centre often ask and to answer these questions we have developed the 'Science of Tunnelling' program, launched recently at the Experience Centre as part of National Science Week 2020.
"There is nothing simple about the construction of a man-made tunnel, and building an underground rail line poses a unique set of challenges," a Cross River Rail spokesperson said.
"This is a fantastic opportunity for people of all ages to learn more about the twin tunnels which will change the way we travel in South East Queensland.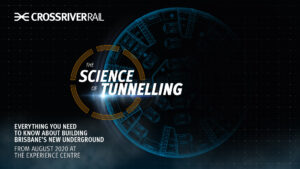 "The program includes amazing imagery of Tunnel Boring Machines and Roadheaders in action, as well as delving into the fascinating history of how building tunnels has changed over the years and just how far the engineering has come since civilisation's first tunnels.
"Participants are challenged to find the answers to questions about tunnelling by exploring the innovative, immersive technologies available in the Experience Centre.
"There is also online content available and there is a version of the program designed especially for school groups as well as the general public.
"We invite all budding scientists, engineers, architects, and tunnellers of all ages to get involved and learn more about the wonderful world of tunnelling."
The Cross River Rail Experience Centre is open six days a week and entry is free, with special tours or school visits available on request.
More information is available on the Experience Centre page.