Woolloongabba station construction update - December 2023 and January 2024
To wrap up 2023, the Woolloongabba team will start to assemble the station canopy on site, ready to install in early 2024. Within the Woolloongabba services building and underground cavern, mechanical and electrical fit-out will continue in the back of house rooms and on the station platform.

Construction at the wider Woolloongabba station precinct will also involve utility works and temporary traffic changes on Main, Leopard and Gibbon streets, allowing for permanent electrical and water services to be connected to the future Woolloongabba station.
Details of work
Rail construction and tunnel fit out
Ongoing until end of 2023.
The below tunnelling and tunnelling support activities are undertaken 24 hours a day.
Installation of mechanical and electrical components such as cabling, fire safety mechanisms, walkways, communication networks lighting and CCTV.
Excavation and demolition of temporary concrete ramps in the cavern and station box.
Delivery of materials associated with rail installation and fit out.
Concrete slab pours in the station box in preparation for continued rail installation in early 2024.

Precast installation to form the B2 back of house level, where plant and equipment will be stored.
Station building, services building and surface works
Ongoing until end of project
The below works will be undertaken during the standard construction hours, 6:30am to 6:30pm, Monday to Saturday. Some activities will be completed out of normal construction hours, 6.30pm to 6.30am, due to traffic permits, safety requirements and construction methodology. Nearby residents will be notified in advance via letterbox drop. Tunnelling support activities are undertaken 24 hours a day.
Assembly of mezzanine precast beam segments and lifting the segments into the station box for installation. Cranes will operate during day and night shifts.
Platform construction and associated structures in the south cavern, north cavern, station box and station canopy continues.
Mass earthworks to fill the decline ramp leading down into the station box is progressing
Concrete deliveries for related station structure pours**.
Cutting and fixing steel reinforcement bars and mesh.
Concrete pours to construct the building floors and walls will be ongoing.
Concrete preparation using high water pressure (green cutting).
Mechanical and electrical fit out within the services building and basement levels.
Installation of fencing, earthworks and construction to build the retaining wall along the boundary of the Woolloongabba busway and Main Street. Detours will be in place and access changes around the Woolloongabba area.
Vegetation removal where required.
Utility service construction on Leopard Street, Main Street and Gibbon Street. These may require traffic and pedestrian changes.
Sewer inspection, survey, geotechnical works and water monitoring in and around the Woolloongabba site may continue. Some lane/road closures and pedestrian footpath detours may be required for this work.
Assembly and installation of the canopy structure, escalators, and platform screen doors.
Out-of-hours deliveries, mobilisation and demobilisation of large plant and vehicles due to traffic permit restrictions.
Out-of-hours surface works will continue including hammering, water blasting, steel cutting / fixing, drainage and concrete pumping.
**Please note concrete deliveries to site are permitted 24/7.


Wall climbers above B2 level, used to finish the outer structural walls of the station box.

Woolloongabba station canopy
Assembly of the Woolloongabba station canopy will start on the ground in late 2023, ready for installation in early 2024.
Did you know?
Did you know the Woolloongabba canopy will require more than 1,000 pieces of steel to be delivered to site and individually bolted together? The canopy will then be safely lifted as one completed structure over the station box, the only one to use this methodology across the Cross River Rail Tunnel & Stations sites.
Why is the Woolloongabba canopy so special?
The Woolloongabba canopy differs from the other station canopies, which are constructed offsite and delivered. The Woolloongabba canopy will be the only canopy to be delivered as individual pieces and assembled onsite. Due to every steel piece being of a unique shape and size, each piece will be labelled with a specific registration QR code to assist the site team when constructing the canopy.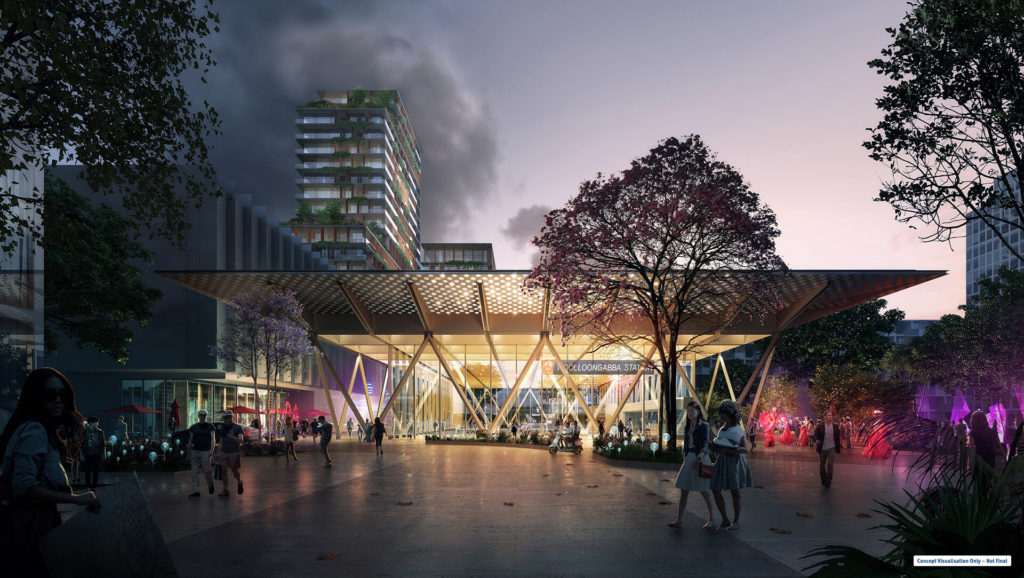 Concept only, not final version

What to expect
Potential noise, dust, and vibration from construction activities both underground, in the tunnels and on the surface of the site, including outside of standard construction hours.
Temporary lighting for out-of-hours works in the station box, decline ramp and busway work area.
24-hour ongoing underground work along the tunnel alignment.
Intermittent lane, road and footpath detours and closures at Gibbon Street, Stanley Street service road, Leopard Street and Main Street.
Ongoing pedestrian detours due to retaining wall works.
Out-of-hours deliveries of large trucks and plant. This includes mobilisation, set up and demobilisation. Short term road closures in the area may also be required.
Work is subject to relevant approvals and suitable weather conditions.
If you want to know more, all of this information is available in PDF form: