Two roadheaders doubling the tunnelling at Woolloongabba mega site
Two roadheaders doubling the tunnelling at Woolloongabba mega site
Maintaining momentum on our major infrastructure projects is critical, and there is none bigger than Cross River Rail.
Cross River Rail is boosting the Queensland Economy by $4.1 million per day, supporting a workforce of over 2,400 and providing work for more than 400 Queensland companies.
Two roadheaders are now at work at the Cross River Rail's Woolloongabba worksite, tunnelling in two different directions from a station cavern that is already 20 metres deep.
With two roadheaders now at work, tunnelling progress has doubled at our Woolloongabba site, with one machine heading north beneath Vulture Street and the other tunnelling towards the south beneath the South East Busway.
The roadheaders are tunnelling roughly 1.5 metres a day and with both these machines at work, over 55 metres of tunnel has already been excavated.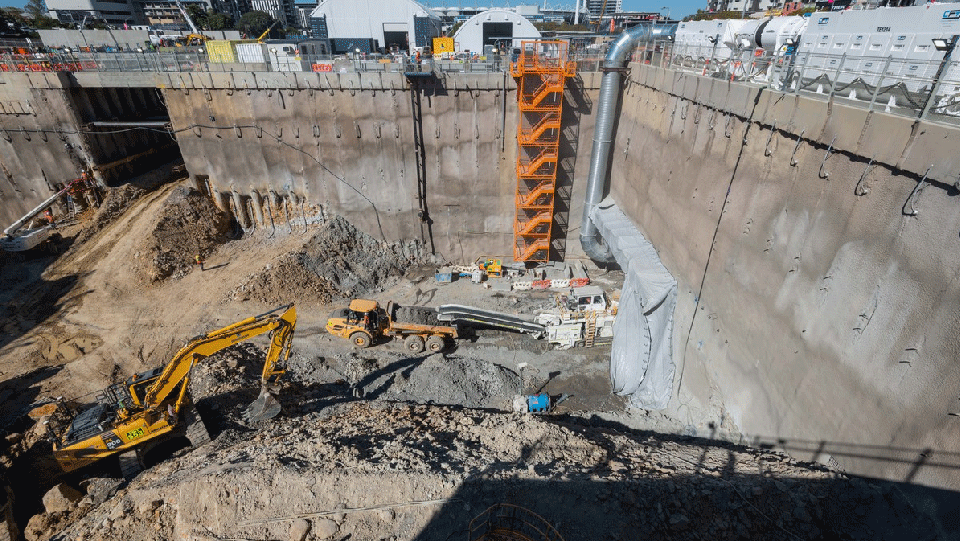 In addition to tunnelling work, there is plenty more construction action at the project's massive 4.0-hectare Woolloongabba work site.
Blasting through the Brisbane Tuff and Neranleigh Fernvale rock under the Woolloongabba site, will help speed up excavation works over the next few weeks.
A large spoil shed is also being erected and like much of the work on this site, is being built by a local Queensland company, in this case IDEC who have secured a $2.4 million contract to build the giant construction sheds already built at the Roma Street and Albert Street worksites.
Woolloongabba will also be the launch site for two enormous Tunnel Boring Machines, which are currently being refitted by Herrenknecht, another local subcontractor, on Brisbane's northside.
These tunnel boring machines will be delivered to Woolloongabba late this year and will take over tunnelling the projects twin underground tunnels to the North from January next year.
These are just some of the examples of Queensland companies benefitting from this government's $5.4bn investment in a project that will support our economy right now when we need it most, and will change forever the way we travel across South East Queensland.
Woolloongabba construction fast facts:
Woolloongabba is the largest of the Cross River Rail worksites at 4.0 hectares
The station box shaft will be 32m deep
Over 132,000m3 of rock and soil will be excavated for the station box
70,000m3 of material has already been excavated
The Roadheaders each weigh 115 tonnes and are 22 metres long
Roadheaders excavate approximately 1.5 metres each day
The Tunnel Boring Machines each weigh 1,350 tonnes and are 165 m long
The Tunnel Boring Machines excavate approximately 20-30 metres each day
The Woolloongabba acoustic shed will be 22m high x 39m wide x 49m long
The 220-metre long Woolloongabba station platform will sit approximately 27-metre below the surface