Five of the coolest machines bringing Cross River Rail to life
Cross River Rail is Queensland's largest ever infrastructure project, and with that kind of scale, it's fair to say we need to use a large range of heavy machinery.
Here's a look at five machines that have been putting in the work across our megaproject to make Brisbane's new underground a reality.
1. Tunnel Boring Machines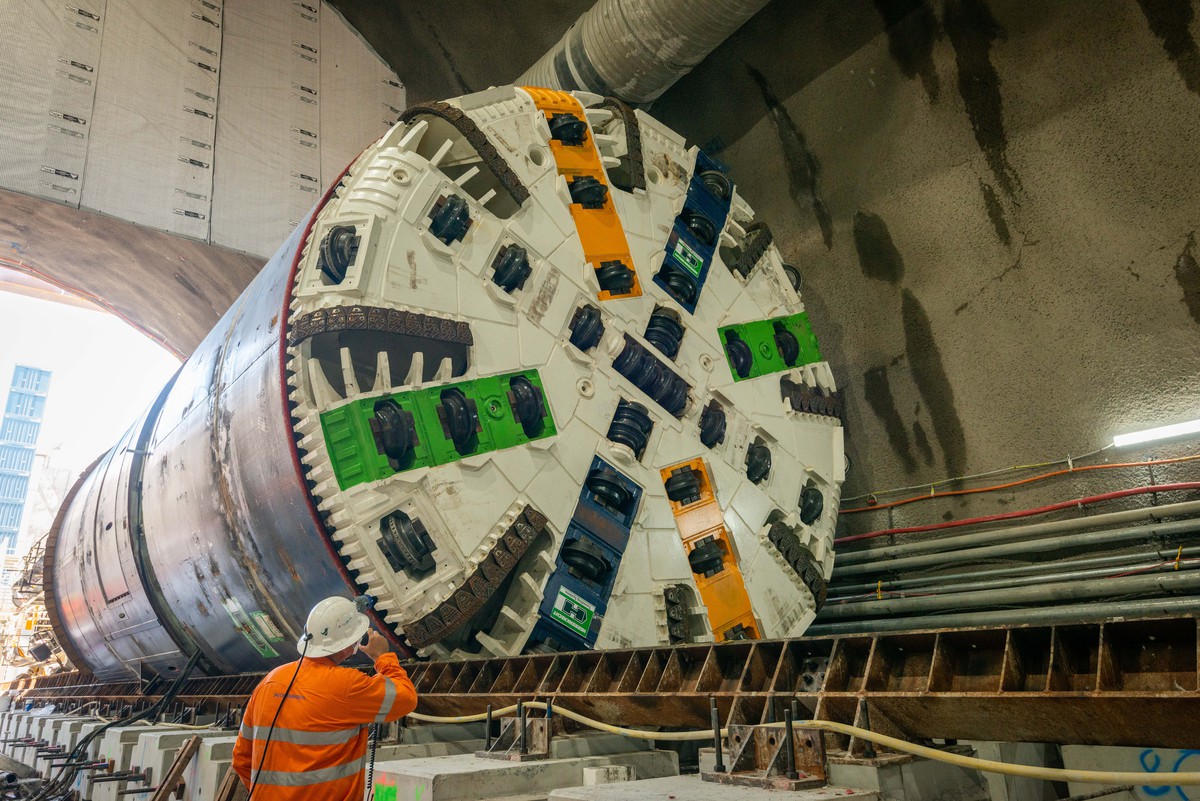 Tunnelling as deep as 42 metres beneath the surface of the Brisbane River was no small feat, but Cross River Rail's pair of iconic Tunnel Boring Machines (TBMs) were specifically designed for the task.
Excavating twin 3.8 kilometres tunnels between Woolloongabba and Bowen Hills, these 165-metre-long, 7.2-metre-tall, 1350-tonne underground factories churned below Brisbane at a rate of about 30 metres a day, excavating some 310,000 cubic metres of rock during their underground journey.
2.Roadheaders
While the TBMs completed the bulk of Cross River Rail's tunnelling, roadheaders were used to excavate the 900-metre section of tunnel between Boggo Road and Woolloongabba, as well as the four new underground stations.
Weighing in at 115-tonnes, the 22-metre-long machines use their rotating excavating head with metal picks, known as a 'pineapple', to dig around 60 tonnes of rock an hour.
3. Luffing cranes
Or the M2480D heavy lifting luffing crane to be exact!
Cross River Rail's Boggo Road site is home to two of the strongest tower cranes in the world – named Jane the Crane and Cliff Hanger by students at nearby Dutton Park State School.
Capable of lifting 330 tonnes – equivalent to 47 African elephants – the 40-metre-high free-standing towers are being used to lift a range of materials required to build the new Boggo Road underground station, such as 20-metre-long beams for the station's floor and roof, precast concrete, and escalators and lifts.
4. Gantry crane
Our 280-tonne gantry crane played a key role at both ends of Cross River Rail's year of tunnelling, lowering the TBMs into the Woolloongabba station box as tunnelling commenced, and lifting them out of the Northern Portal once their journey had finished.
We said goodbye to the gantry cranes in mid-April, after the last TBM pieces were extracted from the portal.
5. Micro TBMs
If Cross River Rail's mega TBMs were too big for your liking, you'll love the fun sized micro TBMs.
With a diameter of 2.1 metres, our micro TBMs are under a third of the height of their bigger siblings, and were used to build new sewer and stormwater tunnels around the project's Southern Area.