Southern area construction update - February to March 2023
In 2023 the Southern Tunnel Portal and Boggo Road station teams will continue to deliver major milestones, including major structural works for the station building and the new pedestrian and cycle bridge.

Major deliveries of steel, concrete and precast concrete segments will be the focus across the area in February and March 2023.
Southern Tunnel Portal construction
Works within the tunnel portal are ongoing with large concrete pours and deliveries required throughout February and March.
Utility work along Railway Terrace is expected to continue until mid-2023 due to final service provider requirements. We appreciate your patience and will keep you updated as work progresses. If you require further information, please contact our team.
Southern Tunnel Portal construction activities include:
Installing steel reinforced concrete to continue the tunnel portal connection
Maintenance work on the existing rail infrastructure within the rail corridor.
Utilities work:

Excavating, concrete pumping, pipe connections and manhole construction to connect the new sewer and stormwater drainage on Railway Terrace
Demolishing concrete and reinstatement activities (asphalting) on Railway Terrace and Kent Street
Service relocation work within the Boggo Road station worksite and Railway Terrace work area north of Rawnsley Street

Bridge work:

Earthworks, concreting and steel installation for bridge structure and piers
Mobilisation and assembly of large cranes to install the bridge structure
Deliveries for bridge structure, with additional fabrication and erection works required onsite
Pedestrian and cycling bridge construction
Construction of the pedestrian and cycle bridge continues across the Kent Street, Boggo Road and Peter Doherty Street worksites.
Work on the bridge supports has started within the Boggo South area and will progressively move into Peter Doherty Street as each support structure is complete. The bridge pylons and segments of the main bridge structure will arrive onsite in preparation for installation over the coming months.
Installation will occur at key intervals throughout 2023. These works are expected to occur continuously over a number of days. Further information will be provided prior to these works commencing.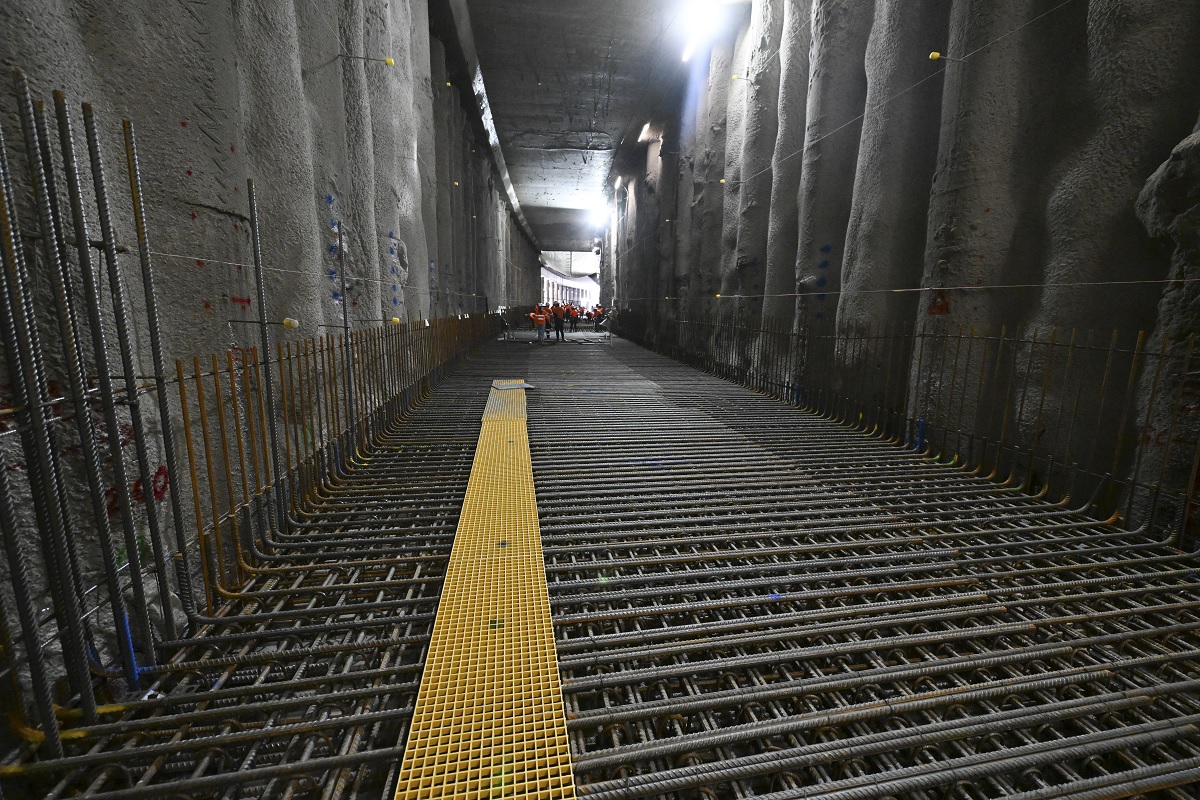 Boggo Road station construction
Installation of precast concrete beams that form the mezzanine level of the station continues. Throughout 2023, construction of the station will progress with installation of steel, concrete and precast concrete segments.
Construction activities include:
Ongoing steel installation within the station box
Concrete pours scheduled overnight or in the early hours of the morning
Arrival and installation of precast concrete segments at night due to the size and traffic permit requirements
Delivery of equipment and materials via Boggo Road, Joe Baker Street and Peter Doherty Street (including night works).
During construction, you may notice:
Boggo Road station construction hours are 24 hours Monday to Friday and 6.30am – 6.30pm on Saturdays
Southern Tunnel Portal construction hours are 24 hours, seven days a week. This includes work during weekend rail corridor closures
Pedestrian and cycle bridge construction hours are Monday to Saturday, 6am – 6pm however some night work may be required. Notification will be provided before any night works
Construction activities may generate increased levels of noise, dust and vibration, and will be mitigated onsite where possible
Construction vehicles travelling to and from the worksite via Boggo Road, Joe Baker Street and Peter Doherty Street, Rawnsley Street, Railway Terrace, Dutton Street and Kent Street
Extended concrete pours scheduled to start early in the morning
Delivery of materials and equipment to the worksite including at night.
Temporary closures of local streets including Kent Street.
Potential short term disruption to utility services. Additional notification will be provided if impacts are expected.
Residents who are directly impacted by our works will be contacted closer to the time with specific information on works near to them.

If you want to know more, all of this information is available in PDF form:
You can use the below details if you'd like to speak to a member of the Cross River Rail Tunnels and Stations team: